Hyundai Elantra Fishers IN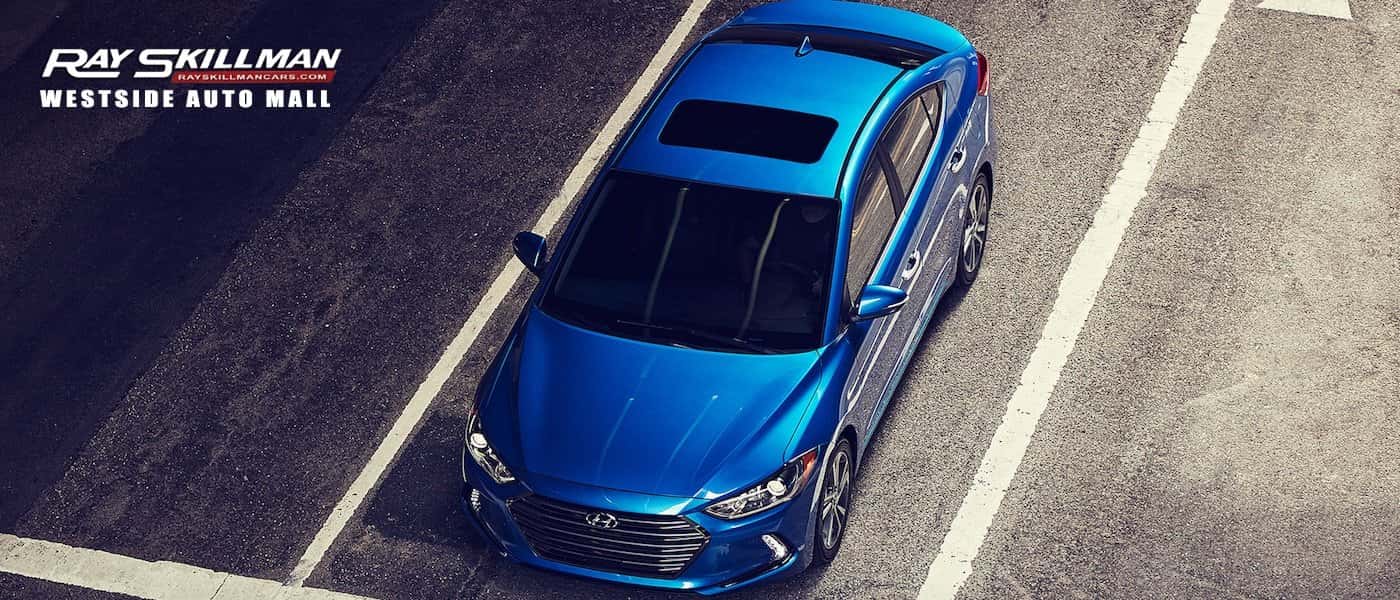 A Next Level Driving Experience
The Hyundai Elantra is the perfect blend of style, elegance, technology, and comfort to bring you the best driving experience in and around Fishers. Ray Skillman Westside Auto Mall welcomes you to come and see the Elantra.
What is important to you when you choose a sedan to drive? Does it have to be stylish? Does it need to be comfortable and convenience? What about technology and safety? When you choose the popular Hyundai Elantra, you get it all and more. It is packed with features you will love and we have them here at Ray Skillman Westside Auto Group for you to test drive.
Stylish & Comfortable
When you make a commitment to a long-term relationship like owning a car, you want it to be stylish and comfortable. The Hyundai Elantra is both. It is stunningly stylish and appealing to the eye. Supple leather seats with heat give you the ultimate warmth on the coldest day or soothe your back after a day at the office. Rear passengers can enjoy heated seats too! Feel the sun on your face with the power sunroof and keep your perfect driving position with memory seat positions. HID headlights with Dynamic Bending Light illuminate the darkest corner and turn when you turn your steering wheel. Smart Cruise Control makes long drives a little less tedious so you can go further. See these features and more when you visit our dealership.
Technology For All
Does the thought of advanced technology get your motor running? If so get ready to be excited because the Hyundai Elantra features technology that makes your life easier and entertains. When you simply must get where you are going the Integrated Navigation can keep you on your path and update you when traffic is an issue. Android Auto and Apple CarPlay allow you to use your voice to command your Elantra. Make appointments, get directions, make phone calls, send text messages, or ask for a joke all with the sound of your voice via Bluetooth technology. The Hands-Free Smart Trunk allows you to load your groceries even when your hands are full. Let Ray Skillman's tech experts give you a full demonstration of these features and more when you stop by.
Safe & Sound
When we hit the road for a day of excitement, the last thing we want is to have an accident. The Hyundai Elantra was designed to keep you safe and offers preventative safety features to help you avoid a crash. Blind Spot Detection with Rear Cross-Traffic and Lane Change Assist all give you extra eyes on the road before you make a move. Forward Collision Warning, Automatic Emergency Braking with Pedestrian Detection, Lane Departure Warning, and Lane Keep Assist all help you correct a driving action if you don't in time, keeping you safe. For a full list of safety features call one of our specialists or stop by.
HUGE Selection
If you are in the market for the popular Hyundai Elantra, Ray Skillman Westside Auto Mall is your destination. We have a huge selection of Elantras to choose from and are here to serve you. We have over 50 Elantra models in a variety of colors, options, and models so you are sure to find the exact Elantra you are looking for, and with the best prices around, you won't need to go anywhere else to get the best deal around. Browse our inventory online to get started, and then come down to Ray Skillman and take a test drive today. We look forward to earning your business.
The Ray Skillaman Westside Auto Mall has been here for Indy's automotive needs for over 30 years. We can't wait to be there for all of yours, starting with your exciting new Hyundai Elantra. Drive in today, or start shopping in your PJ's at home. Either way, our dedicated team is at the ready to exceed your expectations every time.
We take pride in making certain our staff delivers the most pleasant vehicle-buying experience, period. We're not like most dealers that look at every transaction as a sale. Our goal is to truly partner with our customers to establish an ongoing relationship in ownership. When you buy your new Hyundai Elantra from Ray Skillman Westside Auto Mall, you're buying your own personal service crew that will keep you on the road and up-to-date for years to come.

New Elantra Fishers
Ray Skillman Westside Auto Mall has the perfect new Elantra for you. Find it here, along with Indy's best service and value.

Pre-Owned Elantra Fishers
A versatile, high-performance ride like the Elantra is always in high demand. That's why we also carry an exciting selection of pre-owned models from which to choose.

Incentives and Rebates
Why not enjoy your new Elantra along with the Ray Skillman Westside Auto Mall discount? You can have your cake and eat it, too.
Experience the Skillman Difference
Buying a vehicle is a special experience. We understand that this isn't something our customers do every day, which is why we treat every interaction with the respect that it deserves. Ray Skillman has served the Fishers market for decades because we believe that the community and its people supersede any expectations set by a corporation. This is your community. This is our community. When you are shopping for a new or used vehicle like the Hyundai Elantra, you expect the experience to match the promise, which is why we are open and transparent every step of the way. Below, you will find more information about the new Elantra. We hope that you'll contact us and allow us the opportunity to show you why buying from the pros at Ray Skillman Westside Auto Mall, is simply the best decision you can make.
Ray Skillman Hyundai Elantra
There's more to a vehicle demonstration than picking out colors and taking a test drive. At Ray Skillman Westside Auto Mall, we want you to know everything that's important to YOU in your next new vehicle. The Elantra is uniquely positioned in the Indy market to satisfy the needs of practical fun lovers everywhere – the Elantra has the proper mixture of exciting performance and sublime comfort that's appealing to Fishers. Our team is here to make sure you're aware of every feature, tip, and maintenance best practice because we take pride in delivering the ultimate shopping experience for our customers. Watch this video to get your engine revving for your new Elantra, and then let Ray Skillman take care of the rest.
Attention to detail is important. You won't miss a thing when you shop at Ray Skillman Westside Auto Mall.
---
We know you have many options when it comes to car dealers in the Indy area. Our hope is that you will give us the first opportunity to earn your business because of the tremendous experience, great pricing, exciting Hyundai Elantra selection, and our commitment to making your buying experience the most positive one you've ever had when shopping for a vehicle. We stand behind the ideal of delivering the type of respectful engagement that the people of Fishers deserve. If you give us the first opportunity, you'll see why our customers come back time and time again.
---
WHY RAY SKILLMAN WESTSIDE AUTO MALL?
Some dealerships take pride in their sales numbers. Others point to their P&L statements to determine their success. At Ray Skillman Westside Auto Mall, the most important indicator of whether or not we're successfully achieving our goals is when YOU are overwhelmed by our outstanding customer experience. It goes beyond satisfaction. We want you to be ecstatic with the way you were treated and impressed with how easy it was to get the best Elantra deal in Indiana. Your opinion is the one that matters to us at Ray Skillman Westside Auto Mall. It's what drives our success.
---
Customers Come First
See What Our Customers Are Saying
---
---
Your Elantra Shopping Experience
We hope we've answered most of your questions about why you should consider Ray Skillman Westside Auto Mall as your first choice when shopping for a new or pre-owned Elantra model. If you are ready to learn more, please contact us through your preferred method of communication and ask us anything you'd like to know. If you're ready to schedule your test drive, please use the form below. At Ray Skillman Westside Auto Mall, you control your shopping experience. We're here to help facilitate and to be your own personal automotive experts.