Hyundai Ioniq Indianapolis Indiana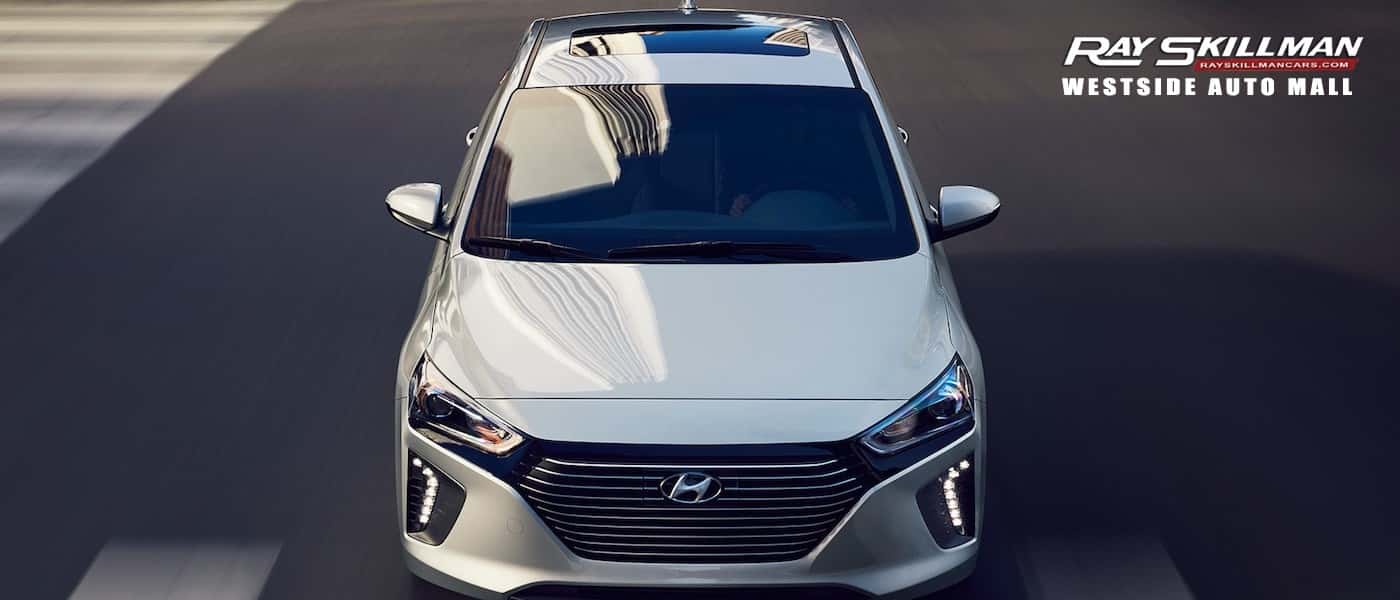 The Ray Skillman Westside Auto Mall
Presenting The All-New Hyundai Ioniq – Revolutionizing Fuel Efficiency
Going green just got a whole lot greener with the arrival of the amazingly efficient new-to-the-world Hyundai Ioniq. Discover America's MOST fuel-efficient car today.
The brand-new Hyundai Ioniq is the hybrid to beat all other hybrids. With dynamic modern style, loads of comfort and convenience features, and of course the incredible fuel economy, this ride is taking the enviro-friendly world by storm.
Greener Than All The Rest
In the race to drastically reduce harmful automobile emissions in our air, the Hyundai Ioniq is lapping the competition. This little wonder is rated at an astounding 58-combined MPG, with an equally amazing range of 690 miles. The best part is, at a starting price of just a hair over $22,000, you pockets stay greener, as well. Until someone can figure out how to make a vehicle that actually cleans the air as you drive, it's going to be a while until another hybrid maker gets close to the performance and efficiency of the all-new Hyundai Ioniq. Get ready to spread some serious earth-friendly love wherever you go.
Saving The World Without Sacrifice
Just because you're determined to drive a vehicle that is as clean and environmentally-friendly, doesn't mean you should have to give up all the perks of owning a new vehicle The Hyundai Ioniq is every bit as comfy, connected, safe, and stylish as any small sedan or compact. Of course, seeing is believing, as they say, and the new Hyundai Ioniq must be experienced to be truly appreciated. That's where the Ray Skillman Westside Auto Mall team comes in. We'll gladly introduce you to every awesome detail of the new Hyundai Ioniq.
The Ray Skillman Westside Auto Mall – Delivering An Efficient Experience
All too often, buying a car takes far longer than it should. You're stuck waiting around a dealership while someone is checking on model availability, pricing, or some other detail that you shouldn't be forced to wait on or haggle over. The reality is, once you decide what vehicle you want, you should be out of there lickety-split and off enjoying your new vehicle. Besides, you have a life to get back to. Our dedicated and experienced team will make sure everything stays on your agenda. We don't pull tricks or hardline tactics to put you in a position or situation you don't want to be in. We operate with honesty and transparency, and a clear focus on making you perfectly happy with your entire experience, every time. Check out our Ioniq selection now, and contact us with your questions. We're always ready to show you how simple car buying should be.
The Ray Skillaman Westside Auto Mall has been here for Indy's automotive needs for over 30 years. We can't wait to be there for all of yours, starting with your exciting new Hyundai Ioniq. Drive in today, or start shopping in your PJ's at home. Either way, our dedicated team is at the ready to exceed your expectations every time.
We take pride in making certain our staff delivers the most pleasant vehicle-buying experience, period. We're not like most dealers that look at every transaction as a sale. Our goal is to truly partner with our customers to establish an ongoing relationship in ownership. When you buy your new Hyundai Ioniq from Ray Skillman Westside Auto Mall, you're buying your own personal service crew that will keep you on the road and up-to-date for years to come.

New Ioniq Indianapolis
Ray Skillman Westside Auto Mall has the perfect new Ioniq for you. Find it here, along with Indy's best service and value.
Pre-Owned Hyundai Indianapolis
A versatile, high-performance lineup like Hyundai is always in high demand. That's why we also carry an exciting selection of pre-owned models from which to choose.

Incentives and Rebates
Why not enjoy your new Ioniq along with the Ray Skillman Westside Auto Mall discount? You can have your cake and eat it, too.
Experience the Skillman Difference
Buying a vehicle is a special experience. We understand that this isn't something our customers do every day, which is why we treat every interaction with the respect that it deserves. Ray Skillman has served the Indianapolis market for decades because we believe that the community and its people supersede any expectations set by a corporation. This is your community. This is our community. When you are shopping for a new or used vehicle like the Hyundai Ioniq, you expect the experience to match the promise, which is why we are open and transparent every step of the way. Below, you will find more information about the new Ioniq. We hope that you'll contact us and allow us the opportunity to show you why buying from the pros at Ray Skillman Westside Auto Mall, is simply the best decision you can make.
Ray Skillman Hyundai Ioniq
There's more to a vehicle demonstration than picking out colors and taking a test drive. At Ray Skillman Westside Auto Mall, we want you to know everything that's important to YOU in your next new vehicle. The Ioniq is uniquely positioned in the Indy market to satisfy the needs of practical fun lovers everywhere – the Ioniq has the proper mixture of exciting performance and sublime comfort that's appealing to Indianapolis. Our team is here to make sure you're aware of every feature, tip, and maintenance best practice because we take pride in delivering the ultimate shopping experience for our customers. Watch this video to get your engine revving for your new Ioniq, and then let Ray Skillman take care of the rest.
Attention to detail is important. You won't miss a thing when you shop at Ray Skillman Westside Auto Mall.
---
We know you have many options when it comes to car dealers in the Indy area. Our hope is that you will give us the first opportunity to earn your business because of the tremendous experience, great pricing, exciting selection, and our commitment to making your buying experience the most positive one you've ever had when shopping for a vehicle. We stand behind the ideal of delivering the type of respectful engagement that the people of Indianapolis deserve. If you give us the first opportunity, you'll see why our customers come back time and time again.
---
WHY RAY SKILLMAN WESTSIDE AUTO MALL?
Some dealerships take pride in their sales numbers. Others point to their P&L statements to determine their success. At Ray Skillman Westside Auto Mall, the most important indicator of whether or not we're successfully achieving our goals is when YOU are overwhelmed by our outstanding customer experience. It goes beyond satisfaction. We want you to be ecstatic with the way you were treated and impressed with how easy it was to get the best Ioniq deal in Indiana. Your opinion is the one that matters to us at Ray Skillman Westside Auto Mall. It's what drives our success.
---
Customers Come First
See What Our Customers Are Saying
---
---
Your Ioniq Shopping Experience
We hope we've answered most of your questions about why you should consider Ray Skillman Westside Auto Mall as your first choice when shopping for a new or pre-owned Ioniq model. If you are ready to learn more, please contact us through your preferred method of communication and ask us anything you'd like to know. If you're ready to schedule your test drive, please use the form below. At Ray Skillman Westside Auto Mall, you control your shopping experience. We're here to help facilitate and to be your own personal automotive experts.