Kia Optima Fishers IN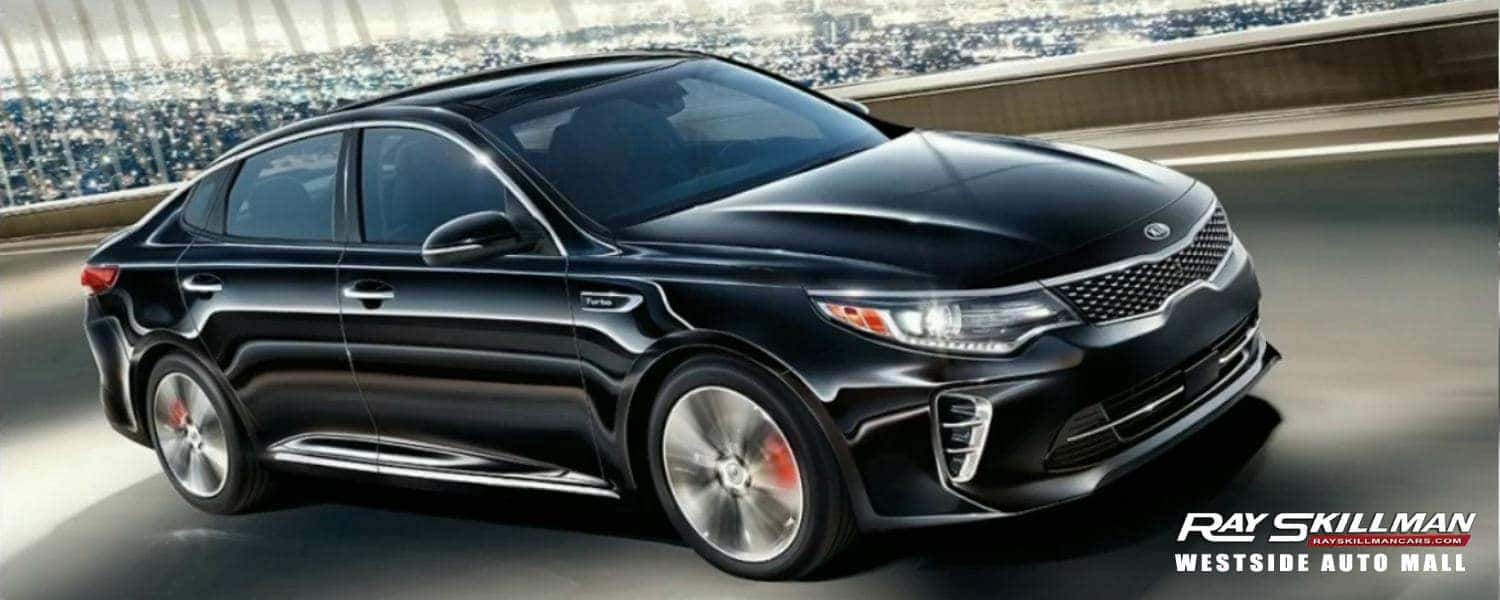 Optimize Your Driving Experience
The Kia Optima is the sedan that our
customers in Fishers, IN will love. It has everything you want in a car and we have them in stock at Ray Skillman Westside Auto Mall.
If you want a better driving experience that won't break the bank then
there is only one vehicle for you. The Kia Optima is a better way to drive and is one of the most affordable sedans on the market. It gives you all the features you want so you will never feel like you are left behind. If you are ready for more, come see us at Ray Skillman Westside Auto Mall.
Comfort and Convenience
No one wants to drive and be uncomfortable. There is nothing worse than hitting the road and having the need to pull over and stretch frequently. The Kia Optima puts your comfort and convenience first so you don't have to stop as often. From the moment you climb inside, you will notice the ergonomic design that puts everything within your reach so you don't have to overreach to control the cabin. The 12-way power adjustable driver's seat with heated and ventilated features not only lets you find the perfect driving position, it keeps you at the perfect driving temperature too. There is even a heated steering wheel to warm your hands on a chilly winter day. Parents will appreciate the rear sunshades that shelter your little ones from the harsh sunlight. There is even convenient front and rear USB charging ports for all passengers to keep their devices powered up and ready to go. To see these features and more, come into Ray Skillman Westside Auto Mall today.
Driver Assistance
Admit it, everyone can use a little help now and then. The Kia Optima features technologies that make your drive not only safer but more convenient too. If you should get distracted and need a little help stopping, the Kia Optima features the Autonomous Emergency Braking that can help you stop fast before an accident has the chance to occur. There is even a Forward Collision Warning System that warns you to slow down or hit the brakes so you don't rear-end the vehicle in front of you. The Lane Departure Warning System alerts you if you cross outside of the lines without your turn signal on so you can steer back into your lane. The Blind Spot Detection and Rear Cross-Traffic Alert monitor your surroundings so you know when you can make your move with confidence. These are just a few samples of what is available on the Optima. For more information, come see us at Ray Skillman Westside Auto Mall.
Smart Technology
In today's world of technology, it only makes sense that it is integrated into our vehicles. The Kia Optima features smart technology that helps you stay in the know while on the go. The Optima is equipped with Android Auto and Apple CarPlay that let you do more in your vehicle. For instance, you can make a phone call to the office to see who wants coffee on your way to work, send a text message to the kids to see who needs a ride home from school or practice, get directions to the nearest gas station, stream your favorite music, schedule reminders in your calendar, and more all with the sound of your voice thanks to the Bluetooth technology inside. There are even the UVO eServices that give you access to Roadside Assistance vehicle maintenance information, and more. For a full demo, come by Ray Skillman Westside Auto Mall today.
Huge Selection
Ray Skillman Westside Auto Mall offers a huge selection of the Kia Optima. We have over 30 on our lot right now for you to choose from in a variety of colors and options so you are sure to find exactly what you want. We even have plenty of other brands under one roof for your convenience so you can shop multiple cars at once if that is what you prefer. We welcome you to search our selection either online or on our lot then come down to see it in person or take it for a test drive. We are standing by to serve you and can't wait to meet you. We look forward to making your dreams come true while saving you money.
At the Ray Skillman Westside Auto Mall, you are sure to find much more than just the perfectly matched 2018 Optima. You will find our product specialist crew to be friendly and knowledgeable, services that keep your Optima running at its best performance level in our service teams and finance crew that works with top area lenders to get you the best rates and payment options. We have tools to help you with your research of the new Optima before you even step foot inside our conveniently located showroom doors. Our user-friendly website provides our selections, specials, and incentives and has financing resources to fill out an application for an easy visit. Give us a call at (317) 293-8060 where we will answer any questions you have and schedule a convenient test drive visitors to our showroom near Avon IN. Then when you arrive, feel at home with our team who aim to please, providing the best services and award-winning level of customer care.
Getting more out of every drive is why Optima drivers enjoy more out of every mile. They get to take on the open road with a higher level of power and confidence. Join their ranks with help from your local KIA dealer, Ray Skillman Westside Auto Mall. We are here for you near Fishers IN to accomplish your goals and get you behind the wheel of the Optima you crave. We have online tools for research and financing and look forward to talking to you over the phone at (317) 293-8060 to set up your convenient test drive. When you show up at our showroom you will never look at your daily drive the same as you settle into the seat and buckle up. Let our team of knowledgeable and caring representatives put you in your perfect ride, not just for today, but also for years to come.
The Ray Skillman Westside Auto Mall has been here for Indy's automotive needs for over 30 years. We can't wait to be there for all of yours, starting with your exciting new Optima. Drive in today, or start shopping in your PJ's at home. Either way, our dedicated team is at the ready to exceed your expectations every time.
We take pride in making certain our staff delivers the most pleasant vehicle-buying experience, period. We're not like most dealers that look at every transaction as a sale. Our goal is to truly partner with our customers to establish an ongoing relationship in ownership. When you buy your new Optima from Ray Skillman Westside Auto Mall, you're buying your own personal service crew that will keep you on the road and up-to-date for years to come.

New Optima
Ray Skillman Westside Auto Mall has the perfect new Optima for you. Find it here, along with Fishers' best service and value.

Pre-Owned Optima
A versatile, high-performance ride like the Optima is always in high demand. That's why we also carry an exciting selection of pre-owned models from which to choose.
Incentives and Rebates
Why not enjoy your new Optima along with the Ray Skillman Westside Auto Mall discount? You can have your cake and eat it, too.
Experience the Skillman Difference
Buying a vehicle is a special experience. We understand that this isn't something our customers do every day, which is why we treat every interaction with the respect that it deserves. Ray Skillman has served the Fishers market for decades because we believe that the community and its people supersede any expectations set by a corporation. This is your community. This is our community. When you are shopping for a new or used vehicle like the Optima, you expect the experience to match the promise, which is why we are open and transparent every step of the way. Below, you will find more information about the new Optima. We hope that you'll contact us and allow us the opportunity to show you why buying from the pros at Ray Skillman Westside Auto Mall, is simply the best decision you can make.
Ray Skillman Optima
There's more to a vehicle demonstration than picking out colors and taking a test drive. At Ray Skillman Westside Auto Mall, we want you to know everything that's important to YOU in your next new vehicle. The Optima is uniquely positioned in the Fishers market to satisfy the needs of practical fun lovers everywhere – the Optima has the proper mixture of exciting performance, welcome efficiency, and sublime comfort that's appealing to drivers in Fishers. Our team is here to make sure you're aware of every feature, tip, and maintenance best practice because we take pride in delivering the ultimate shopping experience for our customers. Watch this video to get your engine revving for your new Optima, and then let Ray Skillman take care of the rest.
Attention to detail is important. You won't miss a thing when you shop at Ray Skillman Westside Auto Mall.
---
We know you have many options when it comes to car dealers in the Fishers area. Our hope is that you will give us the first opportunity to earn your business because of the tremendous experience, great pricing, exciting Optima selection, and our commitment to making your buying experience the most positive one you've ever had when shopping for a vehicle. We stand behind the ideal of delivering the type of respectful engagement that the people of Indianapolis deserve. If you give us the first opportunity, you'll see why our customers come back time and time again.
---
WHY RAY SKILLMAN WESTSIDE AUTO MALL?
Some dealerships take pride in their sales numbers. Others point to their P&L statements to determine their success. At Ray Skillman Westside Auto Mall, the most important indicator of whether or not we're successfully achieving our goals is when YOU are overwhelmed by our outstanding customer experience. It goes beyond satisfaction. We want you to be ecstatic with the way you were treated and impressed with how easy it was to get the best deal in Indiana. Your opinion is the one that matters to us at Ray Skillman Westside Auto Mall. It's what drives our success.
---
Customers Come First
See What Our Customers Are Saying
---
---
Your Optima Shopping Experience
We hope we've answered most of your questions about why you should consider Ray Skillman Westside Auto Mall as your first choice when shopping for a new or pre-owned Optima model. If you are ready to learn more, please contact us through your preferred method of communication and ask us anything you'd like to know. If you're ready to schedule your test drive, please use the form below. At Ray Skillman Westside Auto Mall, you control your shopping experience. We're here to help facilitate and to be your own personal automotive experts.