Mazda6 Indianapolis IN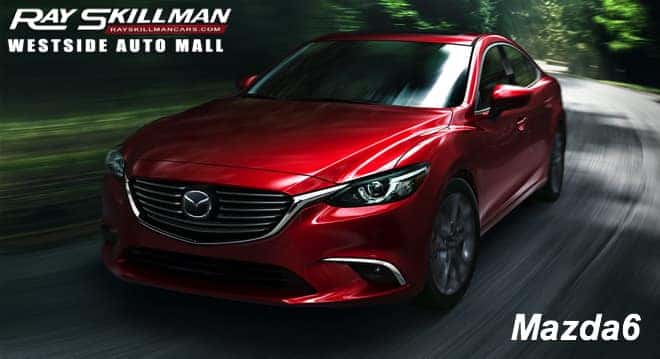 The Ray Skillman Westside Auto Mall
Check Out the Sporty Mazda6
Sitting behind the wheel of your Mazda6 will invoke exhilarating feelings of power and possibility. Turning the key and the pressing the gas pedal will heighten your senses and turn your daily drive into a thrill ride. The pros at Ray Skillman Auto Mall are ready to put you in the driver's seat today.
Capability You Can Count On
Every aspect of your Mazda6 from the Ray Skillman Auto Mall is designed to give you a complete connection to the car and road, and will do so within the first 100 meters of driving. Linear acceleration, deceleration and steering all work in complete harmony to unite the car and driver in no time at all. To achieve this ideal level of performance, Mazda engineers finely tuned each driving control to behave in accordance with the driver's expectations. Both the accelerator and steering wheel feel uniquely linear and natural. Smooth transitions in g-forces were dialed into the braking system as well, making the Mazda6's controllability simply exceptional. The relationship between you and your machine has never felt so natural or exhilarating.
Skills for the Win
With aerodynamics better than a high end sports car and a body design that contributes to both high-speed stability and fuel efficiency, the Mazda6 is a living, driving embodiment of devotion to a driver. The 2.5L SKYACTIV-G gasoline engine takes efficiency to a whole new performance level, with better EPA-estimated highway MPG than the competition. Getting up to 40 miles per gallon on the highway ensures that the gas station is no obstacle to your adventures.
Discover the Mazda6 Today!
The Mazda6 has so many features to love. If you're anywhere around Indianapolis, visit our convenient showroom to explore each one, or call us at (317) 293-8060. You can browse our selection of new and pre-owned Mazda vehicles online any time. Our sales staff has over 35 years of service satisfying their customers' needs and look forward to satisfying yours over and over again. Our many years as a premier auto group in the region has helped us understand exactly what you need in your purchase of a new or pre-owned vehicle and provide an experience that exceeds all your expectations.

New Mazda6 Indianapolis
Ray Skillman Westside Auto Mall has the perfect new Mazda for you. Find it here, along with Indy's best service and value.
Pre-Owned Mazda Indianapolis
A versatile, high-performance ride like the Mazda is always in high demand. That's why we also carry an exciting selection of pre-owned models from which to choose.

Incentives and Rebates
Why not enjoy your new Mazda along with the Ray Skillman Westside Auto Mall discount? You can have your cake and eat it, too.
---
We know you have many options when it comes to car dealers in the Indy area. Our hope is that you will give us the first opportunity to earn your business because of the tremendous experience, great pricing, exciting selection, and our commitment to making your buying experience the most positive one you've ever had when shopping for a vehicle. We stand behind the ideal of delivering the type of respectful engagement that the people of Indianapolis deserve. If you give us the first opportunity, you'll see why our customers come back time and time again.
---
WHY RAY SKILLMAN WESTSIDE AUTO MALL?
Some dealerships take pride in their sales numbers. Others point to their P&L statements to determine their success. At Ray Skillman Westside Auto Mall, the most important indicator of whether or not we're successfully achieving our goals is when YOU are overwhelmed by our outstanding customer experience. It goes beyond satisfaction. We want you to be ecstatic with the way you were treated and impressed with how easy it was to get the best Mazda6 deal in Indiana. Your opinion is the one that matters to us at Ray Skillman Westside Auto Mall. It's what drives our success.
---
Customers Come First
See What Our Customers Are Saying
---
---
Your Mazda6 Shopping Experience
We hope we've answered most of your questions about why you should consider Ray Skillman Westside Auto Mall as your first choice when shopping for a new or pre-owned Mazda6 model. If you are ready to learn more, please contact us through your preferred method of communication and ask us anything you'd like to know. If you're ready to schedule your test drive, please use the form below. At Ray Skillman Westside Auto Mall, you control your shopping experience. We're here to help facilitate and to be your own personal automotive experts.