Mitsubishi Mirage Plainfield IN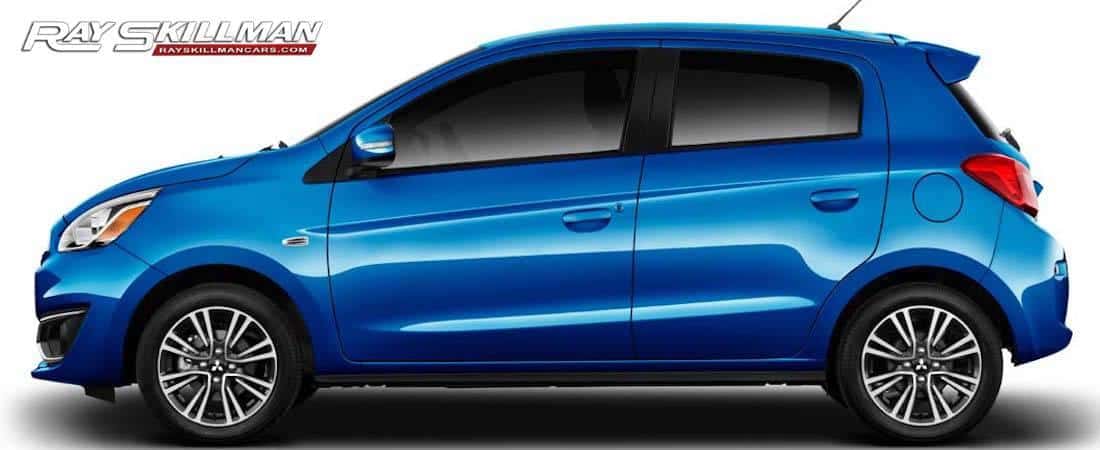 A Welcome Sight
The reliable, fuel efficient, and fun to drive 2017 Mitsubishi Mirage has arrived at Ray Skillman Westside Auto Mall.
Are you ready for a fuel efficient, fun to drive, and affordable vehicle? Do you also want one of the best warranties available on a new car, truck or SUV? Get ready, because the 2017 Mitsubishi Mirage is your dream car and here at Ray Skillman Westside Auto Mall. We think our customers in Plainfield, IN will be just as intrigued with the Mirage as we are, and here is why.
The 2017 Mitsubishi Mirage offers our Plainfield customers one of the best warranties on the market today. Mirage comes with a 10-year/100,000 mile limited powertrain warranty. It also comes with a 5-year/60,000 mile fully transferable New Vehicle Basic Limited Warranty, 7-year/100,000 mile Anti-Corrosion/Perforation Limited Warranty, and 5 year/unlimited mile Roadside Assistance.
Is safety one of the main concerns you have when purchasing a car? The 2017 Mitsubishi Mirage offers our Plainfield, IN customers plenty of safety features to keep them safe like the available rearview camera, active stability control, seven standard airbags, LED headlights for clear visibility, Reinforced Impact Safety Evolution (RISE) body that uses crumple zones, and so much more.
The 2017 Mitsubishi Mirage offers the latest in advanced technological features for our customers in Plainfield, IN as well as surrounding area. Mirage features available technology like the touchscreen infotainment system with Bluetooth hands-free calling, Android Auto, Apple CarPlay, Rockford Fosgate Ecopunch Sound System, push button start, and keyless entry.
Ray Skillman Westside Auto Mall is your #1 Mitsubishi dealer. We are proud to offer our customers in and around Plainfield, IN the 2017 Mitsubishi Mirage as well as the entire Mitsubishi lineup. We welcome you to come in and take a look around, then take a Mitsubishi vehicle out for a test drive. Once you fall in love with your dream vehicle, and we know you will, you can take it home today.
In business since 1980, we offer a large inventory of new and pre-owned vehicles at Ray Skillman Westside Auto Mall. Once you find the right Mitsubishi Mirage, we have financing experts with a variety of easy loan options to choose from, in order to help you secure and confident. A full service dealership, we have a professional maintenance department to keep your Mitsubishi running in top condition, long after you drive it off the lot. Our collision center will take care of you if any unintended situations arise. Experience the friendly, no-pressure approach that always creates returning customers and five star reviews. Browse our website or give us a call today at 317-293-8060 to schedule your test drive.
The Ray Skillaman Westside Auto Mall has been here for Plainfield's automotive needs for over 30 years. We can't wait to be there for all of yours, starting with your exciting new Mitsubishi Mirage. Drive in today, or start shopping in your PJ's at home. Either way, our dedicated team is at the ready to exceed your expectations every time.
We take pride in making certain our staff delivers the most pleasant vehicle-buying experience, period. We're not like most dealers that look at every transaction as a sale. Our goal is to truly partner with our customers to establish an ongoing relationship in ownership. When you buy your new Mitsubishi Mirage from Ray Skillman Westside Auto Mall, you're buying your own personal service crew that will keep you on the road and up-to-date for years to come.

New Mirage Plainfield
Ray Skillman Westside Auto Mall has the perfect new Mirage for you. Find it here, along with Plainfield's best service and value.

Pre-Owned Mitsubishi Plainfield
A versatile, high-performance lineup like Mitsubishi is always in high demand. That's why we also carry an exciting selection of pre-owned models from which to choose.

Incentives and Rebates
Why not enjoy your new Mirage along with the Ray Skillman Westside Auto Mall discount? You can have your cake and eat it, too.
Experience the Skillman Difference
Buying a vehicle is a special experience. We understand that this isn't something our customers do every day, which is why we treat every interaction with the respect that it deserves. Ray Skillman has served the Plainfield market for decades because we believe that the community and its people supersede any expectations set by a corporation. This is your community. This is our community. When you are shopping for a new or used vehicle like the Mitsubishi Mirage, you expect the experience to match the promise, which is why we are open and transparent every step of the way. Below, you will find more information about the new Mirage. We hope that you'll contact us and allow us the opportunity to show you why buying from the pros at Ray Skillman Westside Auto Mall, is simply the best decision you can make.
Ray Skillman Mitsubishi Mirage
There's more to a vehicle demonstration than picking out colors and taking a test drive. At Ray Skillman Westside Auto Mall, we want you to know everything that's important to YOU in your next new vehicle. The Mirage is uniquely positioned in the Plainfield market to satisfy the needs of practical fun lovers everywhere – the Mirage has the proper mixture of exciting performance and sublime comfort that's appealing to Plainfield. Our team is here to make sure you're aware of every feature, tip, and maintenance best practice because we take pride in delivering the ultimate shopping experience for our customers. Watch this video to get your engine revving for your new Mirage, and then let Ray Skillman take care of the rest.
Attention to detail is important. You won't miss a thing when you shop at Ray Skillman Westside Auto Mall.
---
We know you have many options when it comes to car dealers in the Plainfield area. Our hope is that you will give us the first opportunity to earn your business because of the tremendous experience, great pricing, exciting Mitsubishi Mirage selection, and our commitment to making your buying experience the most positive one you've ever had when shopping for a vehicle. We stand behind the ideal of delivering the type of respectful engagement that the people of Plainfield deserve. If you give us the first opportunity, you'll see why our customers come back time and time again.
---
WHY RAY SKILLMAN WESTSIDE AUTO MALL?
Some dealerships take pride in their sales numbers. Others point to their P&L statements to determine their success. At Ray Skillman Westside Auto Mall, the most important indicator of whether or not we're successfully achieving our goals is when YOU are overwhelmed by our outstanding customer experience. It goes beyond satisfaction. We want you to be ecstatic with the way you were treated and impressed with how easy it was to get the best Mirage deal in Indiana. Your opinion is the one that matters to us at Ray Skillman Westside Auto Mall. It's what drives our success.
---
Customers Come First
See What Our Customers Are Saying
---
---
Your Mirage Shopping Experience
We hope we've answered most of your questions about why you should consider Ray Skillman Westside Auto Mall as your first choice when shopping for a new or pre-owned Mirage model. If you are ready to learn more, please contact us through your preferred method of communication and ask us anything you'd like to know. If you're ready to schedule your test drive, please use the form below. At Ray Skillman Westside Auto Mall, you control your shopping experience. We're here to help facilitate and to be your own personal automotive experts.